DrupalCon Mobile Site is Live
DrupalCon Mobile Site is Live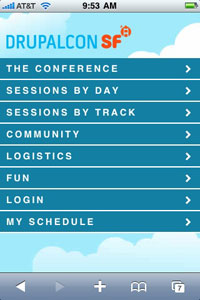 Hello everyone, if your wireless drops or if you do not have a laptop just use your smart phone. The mobile site has a useful interface to view the schedule by day and by track.
I am hosting a BOF in room 206 at 4:15pm today, Monday to present how we created the mobile version of the DrupalCon website. The mobile version will automatically load for all webkit based smart phones.
To learn more about our process or share your mobile development experiences please see me at the Birds of a Feather in room 206.
Community
Active forum topics