Greenopolis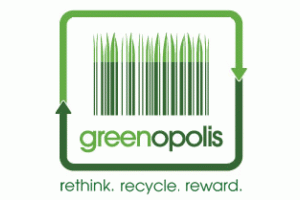 Link to web site:
Greenopolis makes a very simple – yet powerful – promise to you, our user:
We are about doing good. Specifically, our goal is to provide you with information and tools to:
1). Help you to recycle easily
2). Help to save our natural resources for our children's children
3). Track conservation through recycling and re-use
4). Educate and reward conservation
5). Through both our digital site of Greenopolis and our physical presence of GreenOps Tracking Stations, we allow our customers to do actual, "trackable" good for the planet. We also try to make your everyday life better by offering rewards for helping the world and changing the way we handle natural resource and recyclables.
Our overriding desire is to actually make the world a better place rather than just pointing out problems. To that end, you'll find a new tone to the content you find on Greenopolis. Whether it's a blog post, video, infographic, podcast, tweet or email message, our content will be:
Positive – We don't want to fall into the trap of always trashing others and offering no real solutions. We embrace individuals, organizations and businesses who are working to make a difference in the world. We offer positive solutions, opinions and documentation to help change the world in a real and meaningful way.
Focused on Recycling, Reusing, Repurposing, Waste-to-Resource or Conservation – We can't be all things to all audiences, so we must tighten our focus onto what we do best, and onto what works best with our online/offline/real-time capabilities. We also recognize the world is changing – and that means the green customer is changing – and we promise to serve the needs of you, our audience.
Fun to read – Rather than being earnest and negative, we strive to make our content entertaining. This doesn't mean all of our content is humorous, but rather that it's something you enjoy reading or watching. For instance, our recent story of converting SUVs into baby incubators was a serious story about a very serious subject, but the tone of the writing and inclusion of an uplifting video created an enjoyable experience.
Visually interesting – Our stories are paired with beautiful pictures, arresting videos and presented in an attractive and easy-to-use format. We believe the visual cues and information for all content is as important as the words on the page.
Provide links to more information – If, as we state above, that we can't be all things to all people, then we owe you an easy way to find out more. That's why we offer links to content on other sites that will help you to understand the story more fully.
By always keeping you in mind and working to include these five components in every piece of content we create, we can ensure that a Greenopolis story always feels like a "Greenopolis Story." We believe this is the only way we can protect the trust you place in us and to earn your business everyday.
Our Sponsors
Sponsor Drupalcon

Packages available for businesses at all levels. Don't miss out on this unique opportunity to connect with customers and promote your company in the Drupal community.