Four Kitchens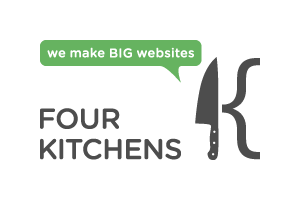 Link to web site:
Four Kitchens is a design, development, and consulting firm located in Austin, Texas, that works exclusively with Drupal, Pressflow, and other open-source software. Design, usability, development, systems architecture, and project management are all handled in-house by its elite team of web chefs. As leading authorities on Drupal scalability, performance, and theming, these web chefs have presented at numerous DrupalCons and DrupalCamps around the world. Last fall, they co-organized the first-ever DrupalCamp Austin, which drew more than 200 attendees from across the United States.
Four Kitchens is the creator of Pressflow, a performance-optimized distribution of Drupal that powers some of the largest sites in the world. Recently, the Grammy Awards, Symantec, and the government of the United Kingdom launched sites on Pressflow.
In addition to its work with Drupal, Four Kitchens has contributed work to numerous other open-source projects such as MediaWiki, CiviCRM, , and BCFG2.
Four Kitchens' clients include The Economist, Yale University, Lifetime TV, FastCompany.com, REvolution Computing, Causecast, the Wikimedia Foundation, and the Internet Archive.
Our Sponsors
Sponsor Drupalcon

Packages available for businesses at all levels. Don't miss out on this unique opportunity to connect with customers and promote your company in the Drupal community.